The
hunt

is on for the best

student and graduate

business ideas is back for a second call of applications!
Are you a current college or university student or did you graduate after 2014? Are you running a business? Or do you have a business idea that could be the next BIG thing?
Fancy winning a whopping £15,000, a national title and more opportunities to excel your business than you can shake a stick at? Then the Tata Varsity Pitch 2019, powered by NACUE is for you! 
Proud to be supported by Tata for the tenth consecutive year, to celebrate and showcase the phenomenal entrepreneurial talent coming out of colleges and universities across the country. 2019 sees the celebration of 10 years of supporting young entrepreneurs, championing over 2000 Varsity Pitch alumnus, many involved not just in our competition but beyond too. 
Applications are now reopen for this year's Tata Varsity Pitch 2019, your opportunity to compete for the increased prize pot of £15,000 equity free cash, with an array of priceless opportunities to excel you and your business. The three-stage competition includes an 'Online Peoples' Vote', a new 2-day bootcamp with an impressive line-up of industry experts, highly innovative support organisations and an exclusive Grand Finals with well-respected individuals from the entrepreneurial eco-system.
The competition is open to any current students at a UK university or college or anyone who graduated after 2014.
Final call for the best student and graduate business ideas – Applications close at noon on Friday 27th September 2019.

About
The Categories
Timeline
Online Peoples' Vote
FAQ's
About Tata Varsity Pitch Competition
Tata Varsity Pitch 2019, powered by NACUE is an annual, national early stage business pitching competition, that celebrates the best businesses exploding out of colleges and universities across the UK. It represents one of the flagship enterprise events as part of Global Entrepreneurship Week (GEW), highlighting and showcasing the entrepreneurial flair of young businesses, now in its 10th year.
Open to both current students and graduates since 2014, applicants have the opportunity to apply in two categories, simply by submitting a 60 second video pitch, presenting their radical business solution and innovative ideas. It's that simple!
In October, 30 shortlisted applicants will be asked to pitch their ideas live at the semi-finals in London to a highly regarded panel of judges. The winner of the Online Peoples' Vote, the applicant who successfully ran the most engaging viral campaign and obtained the highest number of votes, will be joined by the finalists of each of the 6 categories, to progress onto the Bootcamp later in the month.
The Grand Final will see the seven startups competing to win the £15,000 equity free funding and a national title bestowed upon them in Global Entrepreneurship Week, in November 2019. Each finalist will have two minutes to pitch their concept to an esteemed panel of industry experts, in order to become the 2019 winner.
Triple your chances of success in our competition by entering TWO categories of your choice, as well as automatically entering the Online People's Vote!
The Categories
TATA SOCIAL IMPACT

Is your business making the world a better place? This category is for social enterprises and ethically conscious businesses with passion to have make a difference and significant impact.

TATA DISRUPTIVE BUSINESS

For companies that are truly changing the way things are traditionally done; your product or service is improving the market in an unexpected way.

GENUINE INNOVATION with Tata Global Beverages

Is yours a new idea or a more effective ways of doing things? If your product or service is unique or improving something that already exists in the market, enter this category.

CREATIVE & DESIGN with Tata Consultancy Services

We welcomes entries from those whose businesses have a creative flair, ranging from crafts, music, to marketing; showcase the diversity amongst the creative industries.

DIGITAL AND TECHNICAL with Jaguar Land Rover

Some of the fastest growing businesses in the global economy in the last 5 years have been apps and online ventures. If you think that your app, hardware or online product has the potential to change the status quo, then we want to see your application.

IDEAS with Tata Communications

Do you happen to have an astonishing idea? Do you believe that your idea will be the next 'big thing'? Well look no further as this category is exclusively dedicated to those fledgling ideas.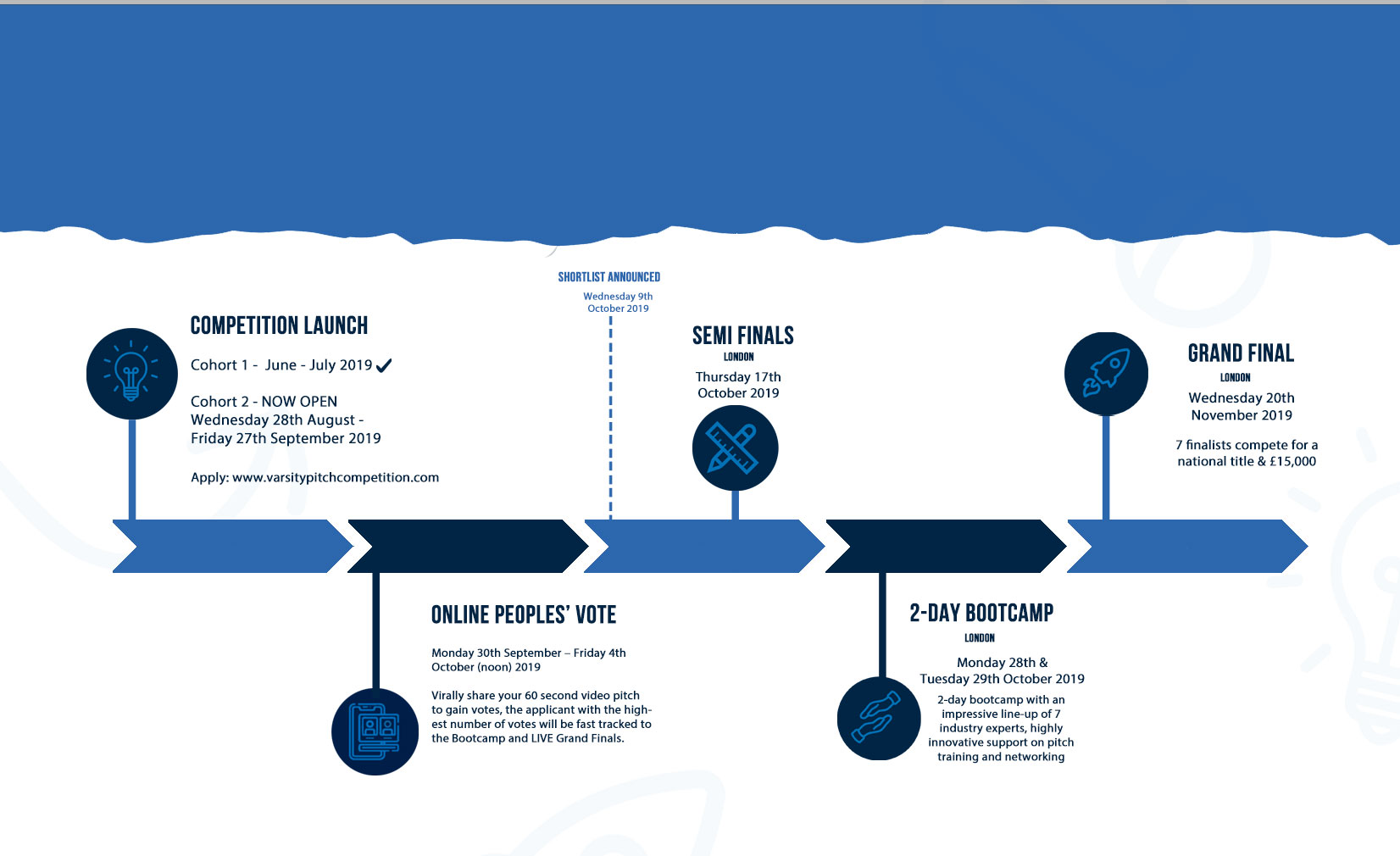 Online Peoples' Vote
Triple your chances of success in this year's Tata Varsity Pitch Competition by entering* our Online Peoples' Vote!
The applicant with the highest number of digital votes between Monday 30th September – Friday 4th October will be fast tracked to this year's Grand Finals. Automatically bypassing the Semi Finals and exclusively partaking in this year's 2-day bootcamp. The successful applicant will be announced on Wednesday 9th October 2019 alongside this years 30 semi finalists! Keep your eyes on @NACUE.
Last year, Musemio were fast tracked through to last year's Grand Finals after drumming up an outstanding number of votes for their video pitch.
HOW DOES IT WORK?
At noon on Monday 30th September 2019, your video pitch will be publicly hosted on our dedicated Tata Varsity Pitch homepage.
All you simply need to do is encourage your friends, family, teachers, your next-door neighbour… anyone you can think of to vote for your application. All they need to do is to hit the thumbs up icon to click on their most favourite video pitch 👍🏼
Sharing on social media? We've created some handy artwork to help your viral campaigns, all you need to do it pop your logos in where indicated – download here. Remember to use the hashtag #VP2019.
Each application will be automatically eligible* to participate in the Online Peoples' Vote. Wish not to be involved? That's fine, just let us know on your application form.
FAQ's
When do entries open & close?
Entries will open at 12:00 Midday on Wednesday 28th August and close at 12:00 Midday on Friday 27th September 2019 .
When will I find out if I've reached the semi-final?
You will be contacted on either Friday 4th or Monday 7th October 2019. Please ensure that you have provided the correct contact details on your application. If you have not received confirmation by close of business on the 7th October 2019, regrettably you have been unsuccessful this year. Due to the significant number of applications we receive, unfortunately we are unable to provide individual feedback.
Do I need to be available for all the face to face dates?
Yes. If you are shortlisted, you will be required to pitch in person on Thursday 17th October 2019. If you are later selected as a category finalist, you must be able to attend the 2-day mandatory bootcamp on Monday 28th and Tuesday 29th October 2019 and the Grand Final on Wednesday 20th November 2019.
All face to face events are based in London and travel and accommodation are at the applicant's own expense.
Someone in our group isn't a student or recent graduate – can we still apply?
Yes, certainly. So long as at least one member of your business meets the guidelines then it does not matter if there are other members who do not. If this is the case, the submission should be in the name of the individual who meets the eligibility criteria.
I have an existing video pitch which is longer than 60 seconds – can I still enter it?
You are welcome to enter an existing video however the judges will only take the first 60 seconds into consideration when shortlisting, to keep the process fair. You should ensure therefore that all the relevant information is included in those first 60 seconds. It is strongly recommended that you review the 'Information Pack' which recommends the aspects to include.
Can I apply if my concept is only at the idea stage?
Absolutely, the 'Ideas' category is just for you! We're looking for the most creative and innovative ideas out there, whether they are just an idea on paper or a fully-fledged business already selling a product. Remember every business needs to start somewhere...
If I have already submitted my application can I update my 60 second video pitch?
We cannot edit any applications however you can email This email address is being protected from spambots. You need JavaScript enabled to view it. to request that your application be deleted. You are then responsible for re-submitting your application through a new application.
How do I know that the other applicants Online Peoples' Vote is genuine?
Any pitches which have unusual or suspicious voting activity on them will be subject to investigation by NACUE and if we are not satisfied with the explanation for said unusual activity, the application will be removed from our site and disqualified from this and all future NACUE competitions.
How does the Online Peoples' Vote work?
This year's Online People's Vote will open 12:00 Midday Monday 30th September to 12:00 Midday Friday 4th October 2019. All submitted video pitches will then be published onto our Varsity Pitch page and you can then share this amongst your networks to gain votes, so get preparing your strategy!
Your supporters can vote for your video pitch and the one with the highest number of votes will be fast-tracked to the Grand Finals in Global Entrepreneurship Week. The Online People's Vote winner be contacted first and then publicly announced on Wednesday 9th October via social media, so keep an eye out...
*If you wish not to participate in the Online Peoples' Vote, you can opt out on the application form.
I have shared my video link with friends and family however they are having difficulty voting?
The voting system runs on collecting and configuring IP addresses. Meaning that if people are voting for your video pitch on the same internet server (E.g. People in the same office), this operates on the same IP address and therefore only one vote can be cased using this IP addresses. We would recommend that you encourage people to vote in different locations but also using smart phones.
Terms and Conditions
These terms and conditions apply to the Tata Varsity Pitch Competition 2019 grand prize of £15,000 and without acceptance of these terms we will be unable to process your prize. Therefore, we require that no Directors of the company:
Work for or have any formal connection with (other than as winners of the Varsity Pitch Competition) NACUE (registered charity number 1139550) or NACUE UK Limited (Company number 6885463)
Have been disqualified as a director or barred from owning or managing a company
Have not been involved in or convicted of any fraudulent or criminal dealings
Have not been made or declared bankrupt in the last 5 years
All of the £15,000 prize money must be re-invested in the business and must not be used for personal use or gain
The winners of the Tata Varsity Pitch 2019 will need to hold a bank account in their company name. If you don't hold one already and win the competition, you will be required to set up a bank account in the company name.
next
prev
 Our Sponsors and Partners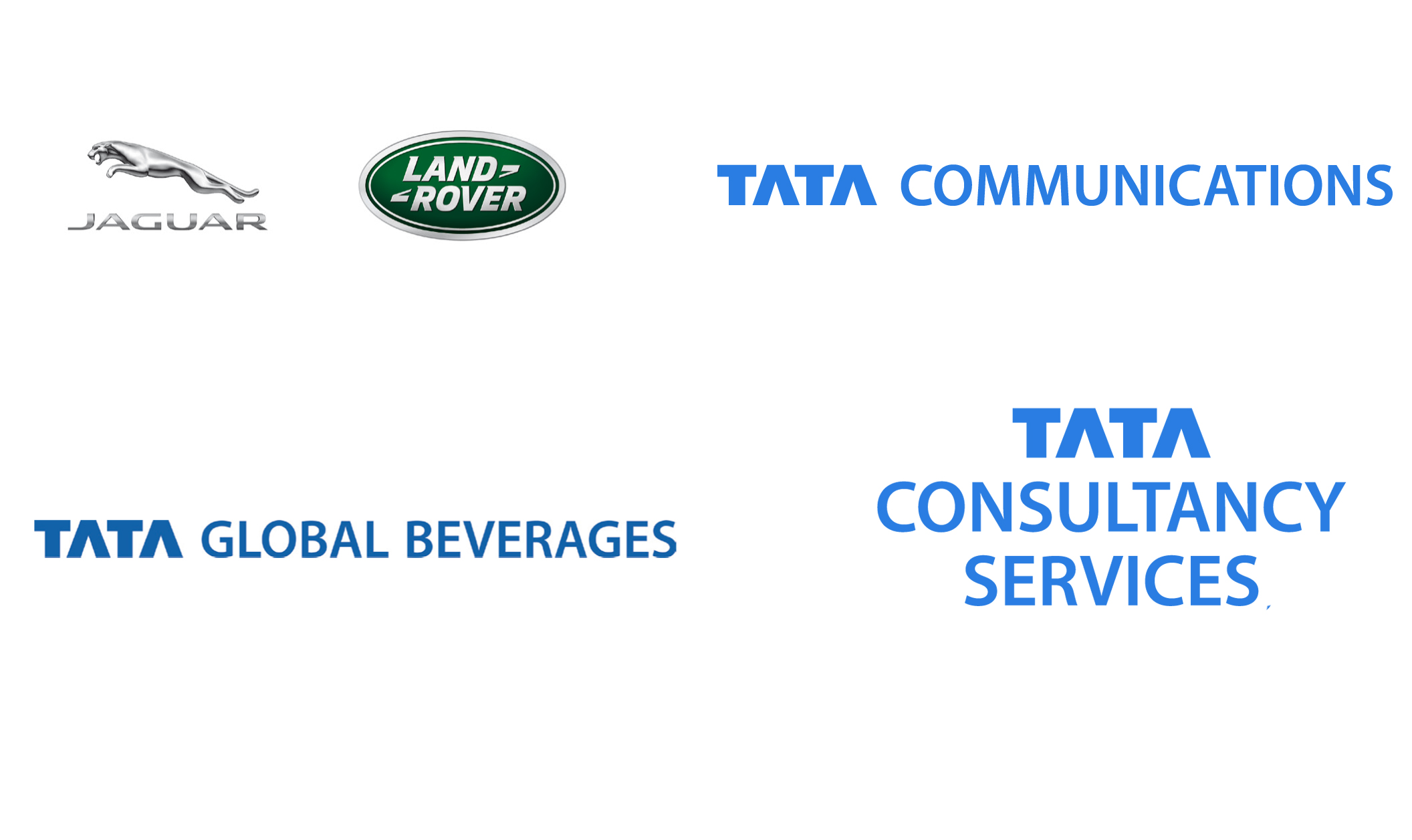 The difference
we 

make
Thomas Fudge
CEO, WASE, Varsity Pitch Winner 2018
Varsity Pitch is a fantastic opportunity for any entrepreneur, the process is great with help and advice at each stage that is valuable in growing your idea
Stephanie Hodgson
Former Head of Product, Motus Innovation, Varsity Pitch Winner 2017
Varsity Pitch is the only competition I have entered where feedback is provided throughout - even to teams that are eliminated. This is excellent! It was so well organised - very impressive. The organisers responded promptly to emails and communicated very well with participants throughout the process.
Jack Cornes & Harry Smith
, HausBots , Varsity Pitch Finalist 2017
Thanks for the exposure you gave us to mentors and business professionals. Everyone provided great insight to us and it's always amazing talking to others about your business and challenging us.
Ryan Robinson
Co-Founder, AEROPOWDER, Varsity Pitch Winner 2016
Winning the Varsity Pitch Competition was definitely a highlight. The prize has been invaluable in allowing AEROPOWDER to continue its product development work. If we could give any advice to anyone out there, it's to make sure you go for it! Pitching in front of such an experienced panel is always a great experience, no matter the outcome. We are extremely grateful to NACUE and Tata for the opportunity to take our company further and try to make a real difference.
Peter Spence
Varsity Pitch Winner 2015
It was an invaluable opportunity to meet and compare experiences with other start-ups, refine and practise our pitch and meet high-profile judges and mentors.