Our 10th Student Enterprise Conference 2019 has now been wrapped up and what a weekend it was!! NACUE along with 473 ambitious young people, entrepreneurs and industry experts took over the Sibson Building at the University of Kent for a packed weekend of entrepreneurial discussion, collaboration, advice and networking like you wouldn't believe. Who knows maybe the person they met over the weekend might introduce them to their next investor, designer or even co-founder!  Breathtaking to witness, amazing to be a part of it all.
As you crash back to your reality and adjust into the week ahead, we wanted to reminisce with you about the brilliant weekend that was #SEC2019.
NACUE, the University of Kent and Yoti, all warmly welcomed the delegates, highlighting why they do what they do and how important it is to inspire student-led initiatives and student entrepreneurs across the UK and beyond.
NACUE's CEO, Holly Knower, opened this year's conference, highlighting that in a world where young entrepreneurs are crucial to growing the economy, society needs individuals that possess change making qualities: Empathy, Leadership, Teamwork and Collaborative Problem-Solving skills and that the weekend was the perfect opportunity for delegates to learn everything about unleashing their creative ideas and leadership skills.
Professor Martin Meyer, Dean of Kent Business School at the Kent Business School, shared the universities passion and dedication towards developing an entrepreneurial culture at the university amongst both staff and students. Professor Meyer gave an energetic opening encouraging delegates to share their institutions and distances travelled to attend the conference. The 10th Student Enterprise Conference was most certainly 'national' with representatives joining us from England, Ireland, Scotland and Wales. 
This year's headline sponsor, Yoti, shared the organisation's mission to become the world's trusted identity platform, as what every business requires to make its life easier in today's technological world, is something that will make it quicker but at the same time safe, to verify and authenticate their customers. Marho Andrew Greer, Product Manager finished by reminding everyone to take advantage of their free personal offer available only throughout this weekend, of their exclusive and complimentary 'Yoti CitizenCard' PASS card', for delegates to have their biometric identity created as proof both online and in-person.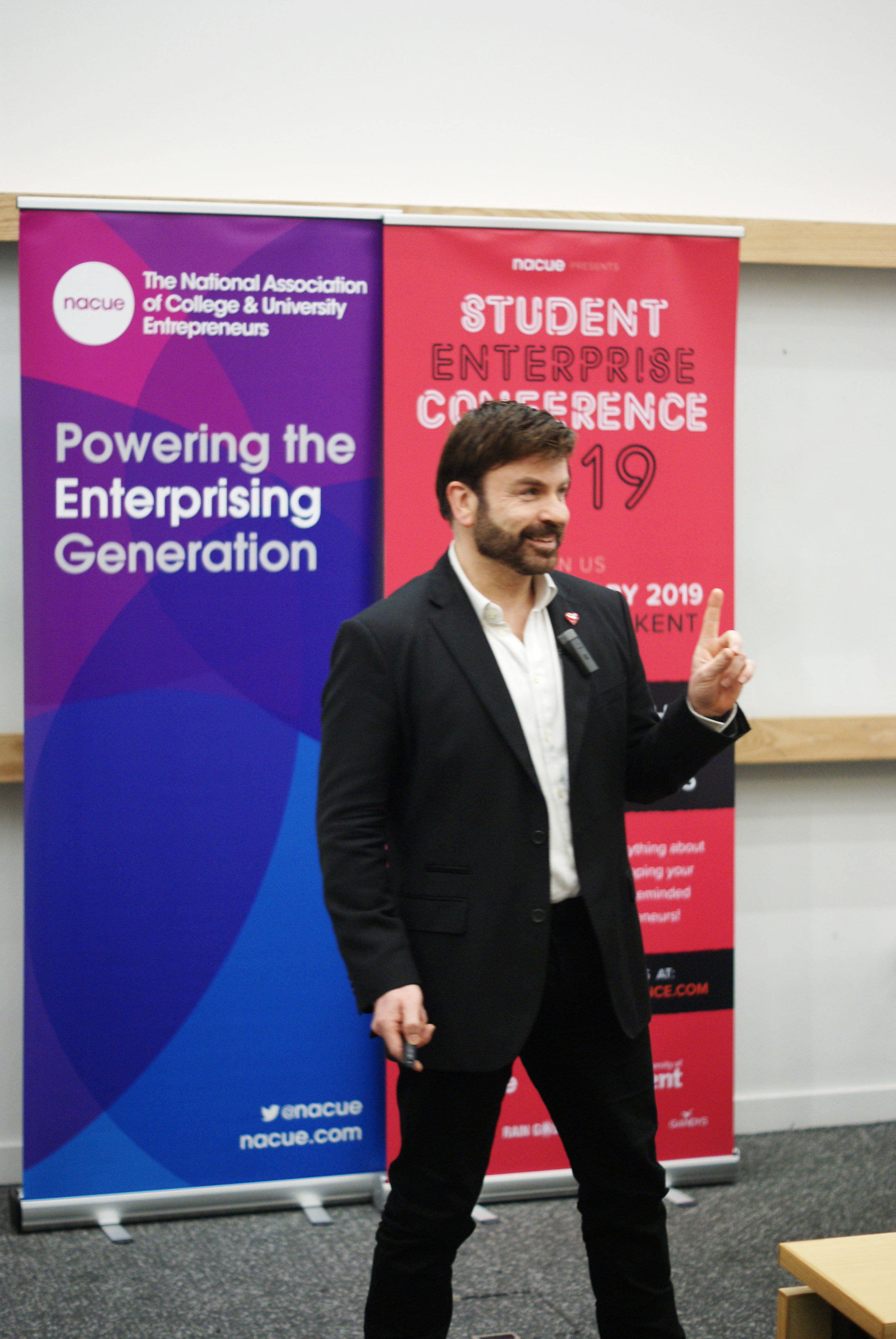 Our morning keynote speaker, Dr. Mick Jackson, Founder at the Wildhearts Group, took to the stage speaking on 'Inspiring the Leaders our World Deserves'. He began by saying that entrepreneurial thinking skills were crucial for success in today's World, which can be learnt and improved with practice, enabling anyone to discover their 'Entrepreneurial Self'. Dr Jackson shared some eye-opening initiatives available for some of the youngest and most budding entrepreneurs up and down the country. Micro-Tyco a month-long entrepreneurial training programme, enabling participants to practise fundamental business skill in a safe environment. Delegates were bowled over with the innovative thinking of primary school-aged students, turning £1 into thousands. All profits are reinvested by WildHearts to provide much needed micro-loans for entrepreneurs in the developing world. 
A HUGE thank you to Mick, for opening this year's #SEC2019 with such an inspirational and thought-provoking presentation to launch the conference.  The students were so overwhelmed that it took him a further 3hours to actually get out of the building!
With programmes in hand, delegates decisively pondered their choices before moving into the first round of breakout sessions but which to choose?  Would it be to hear how Devika Wood used Tech to revolutionise the Healthcare Industry – delegates later said how relevant with 'direct and specific examples to illustrate her story, with no waffle was refreshing and such an aspirational speaker!' Or would it be to take part in the '6 Thinking Hats' leadership, communication and teamwork session with the Kent Marketing Society, dip into an interactive session on 'Beliefs and value driven leadership success' or one on 'Pitching with Vensa' to secure those investors that businesses require or how through social and environmental change ethical products can impact lives across the world.
A quick turnaround ensured some delegates were soon able to work through 'how to celebrate failure', in a packed room with Johnny Luk, 'as a way to make things better' and how to put context into failure and to totally embrace risk. Others were introduced to a practical workshop led by Jodie Hughes, wittingly titled 'You're right – Business plans are boring! Introducing the Business Model Canvas – Your Business on a page', to keep it relevant and quickly able to be adapted. Delegates found out how they could succinctly revolutionise their business concept in a relatively short space of time, all departing energised for the afternoon session!
Meanwhile those that headed upstairs, were welcomed by Tim Barnes, Founder of The RainGods and NACUE's very own Trustee, who explained what 'GovTech Academy For Universities' is, that this new sector is in the market for businesses selling products and is one of the largest industries in the new world and all young entrepreneurs should consider developing into this area, to make an incredible impact.
Enterprise Nation brought a lot of energy to the session in sharing the utmost secrets in generating viable business ideas. They encouraged delegates to think about what they wanted to achieve, offering practical advice on how to achieve it, where to focus and more! In fact, so much more that a spontaneous breakout session happened straight after. Damon Bonser targeted another aspect, to understand exactly what early stage investors expect from a pitch, product idea or business plan.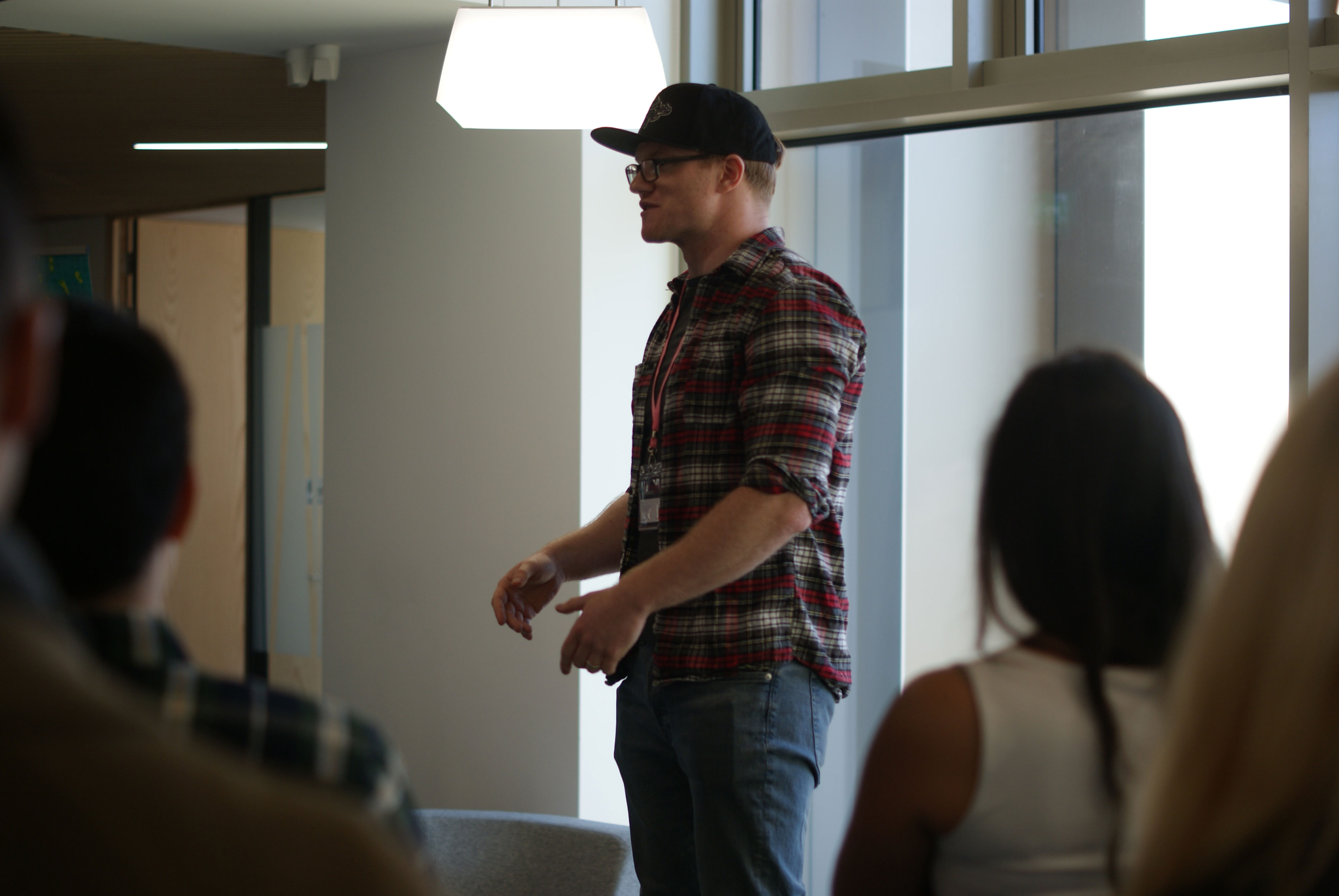 At the end of an intense and inspiring morning, delegates headed for a pit-stop lunch from the cafe, continuing their networking in the bright February sunshine that joined us for the weekend and discussing the morning sessions highlights with each other. Some of the speakers remained on hand, whilst others had exhibition stands, to continue the discussions and introduce themselves to those that hadn't heard from them, on how their organisation might be able to provide support to budding entrepreneurs. We also welcomed some amazing student exhibitors, keen to share their ideas:
Make your life glow! – Beauty products which give you results
Do You customs – designer and bespoke shoes customised
Worldly  –Travellers abroad who will be hosted by locals who share your interests and will show you the hidden gems
Nadia Esi – Natural hair products stimulating hair growth
Fortuna Tailors - making clothes and accessories using fabric and inspiration from her home country of Angola. 
Accommole – Renting made easy
ShadyBeauty – Highlighters designed specifically for all skin tones
DBACE  – working with MeWe360 to find the best talent wanting to drive positive social impact through their creative enterprise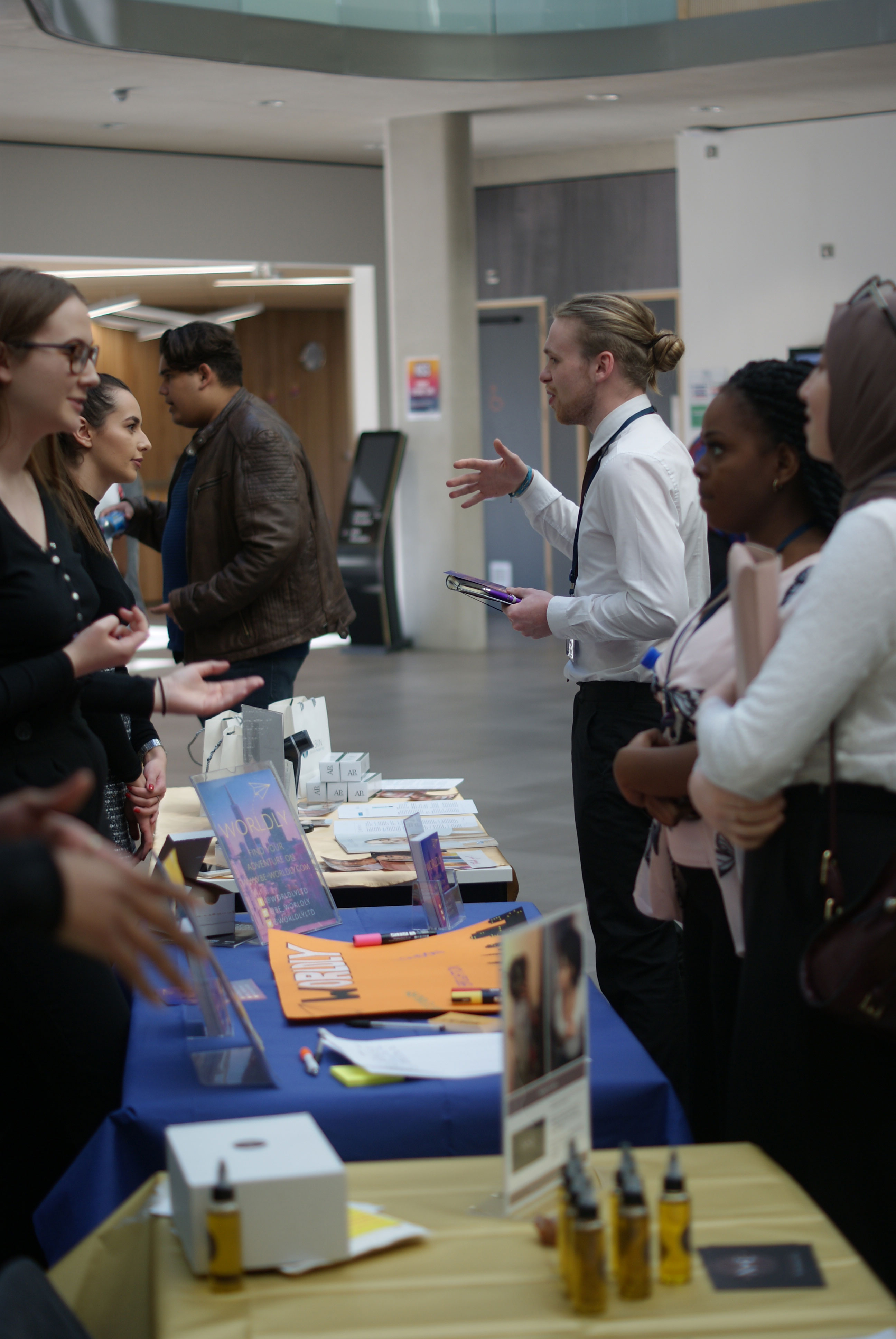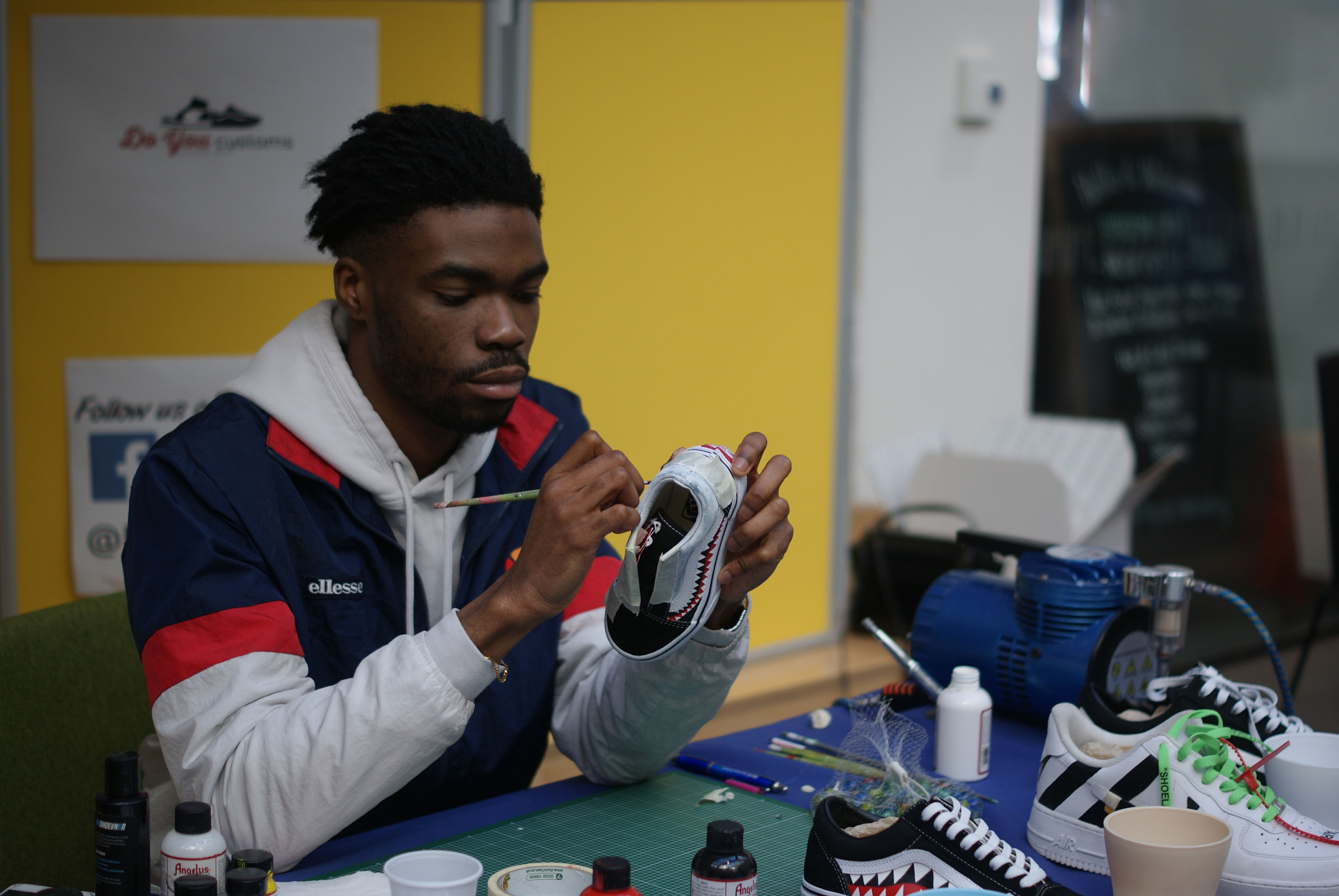 After re-fuelling themselves and planning for the afternoon session, delegates headed off to their choosen breakout sessions. There was an energised lecture theatre for James Buckley-Thorp's discussion on the tricks of the trade and 'how to style your proposition to dramatically increase your chances of raising investment' was a lively affair, providing thought and insight to those that attended. Meanwhile in another room...Overcoming adversity to reach your true potential is not an easy thing to do but Nomalanga Nyamayaro did just that and shared how you can too, with a bit of grit and a sprinkling of determination thrown in!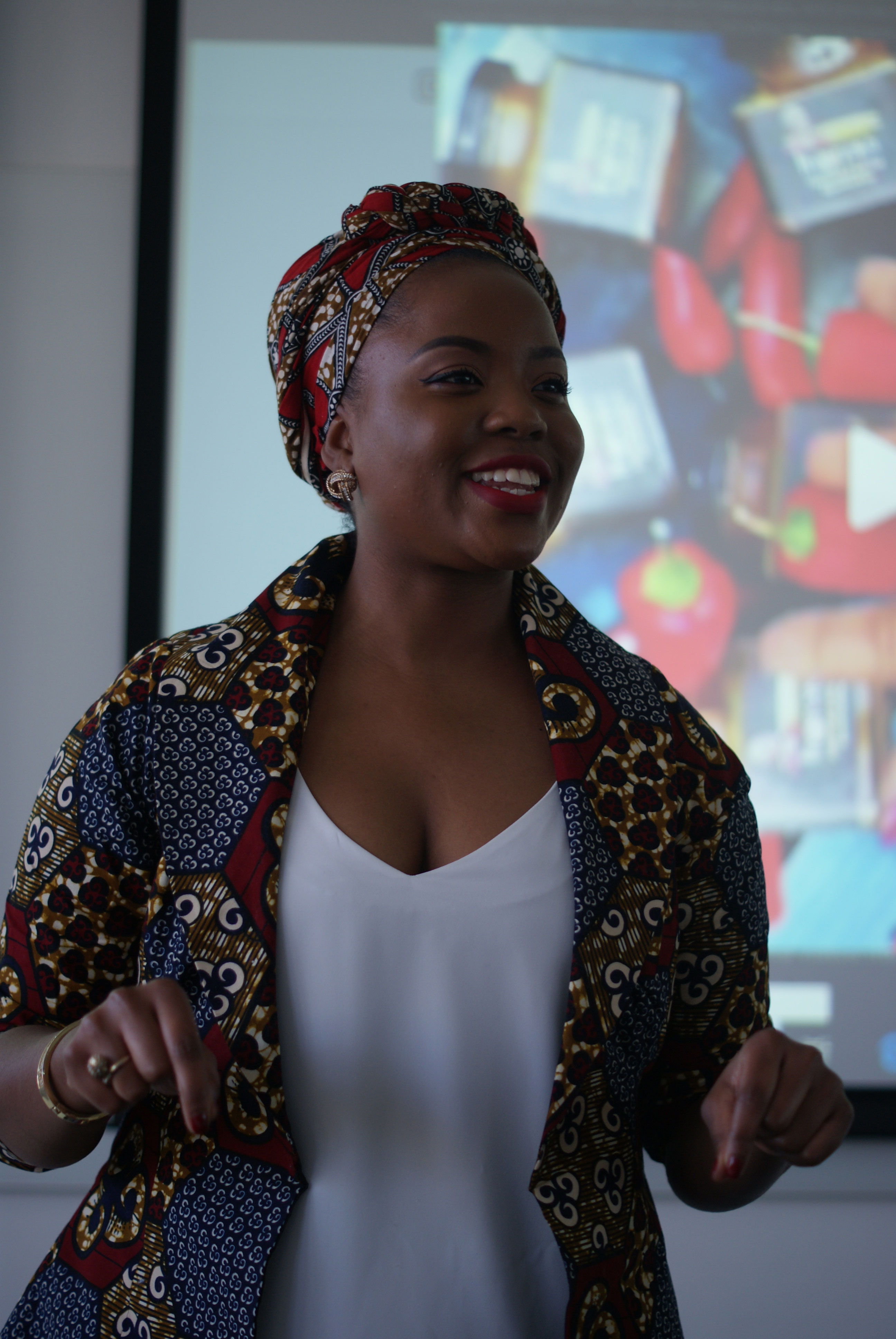 Our long-time supporter David Trayford explained in his energetic talk and practical workshop how many want to change the World, start a business or campaign but don't know how or even where to start. He reminded us that it simply takes a spark of an idea and that can begin within any of us, which is often just enough to kick start our project. He even managed some smaller post engagement sessions with students, returning on the Sunday, at their request! That spark David spoke of, is exactly what ignited in Victor when he founded Liter of Light Nigeria. He spoke passionately of how being a social entrepreneur, fighting global injustices, was not an easy path to walk but how it was so rewarding and with an open mind, to see problems as an opportunity. 
All sorts of practical support were provided by our panel Support for Startups in a packed room, with advice from Enterprise Nation, The Kent Foundation and NatWest on how entrepreneurs can overcome the challenges that they might face, MVP and funding, so we just know that there 
In what seemed like a blink of an eye, the corridors were once more filled with delegates headed to the Lecture Theatre for the final keynotes of the 1st day. We were delighted to welcome, Paul Forkan, co-founder of lifestyle brand 'Gandys', who provided a heart wrenching account on how he and his brother came to found their company after they had such personal devastation. But literally from the ashes, they built the successful worldwide business they have today, whilst still giving back to underprivileged children with education, nutrition and medication they need, through the Gandys Foundation. Sprinkled with humour and passion he shared how they have infiltrated all kinds of businesses from McLaren to Virgin, John Lewis to Liberty London, collaborating with these businesses in the fullest sense!
Huge thanks to Paul for joining us at this year's conference and sharing his passion and an awesome business concept, combined with a social conscience.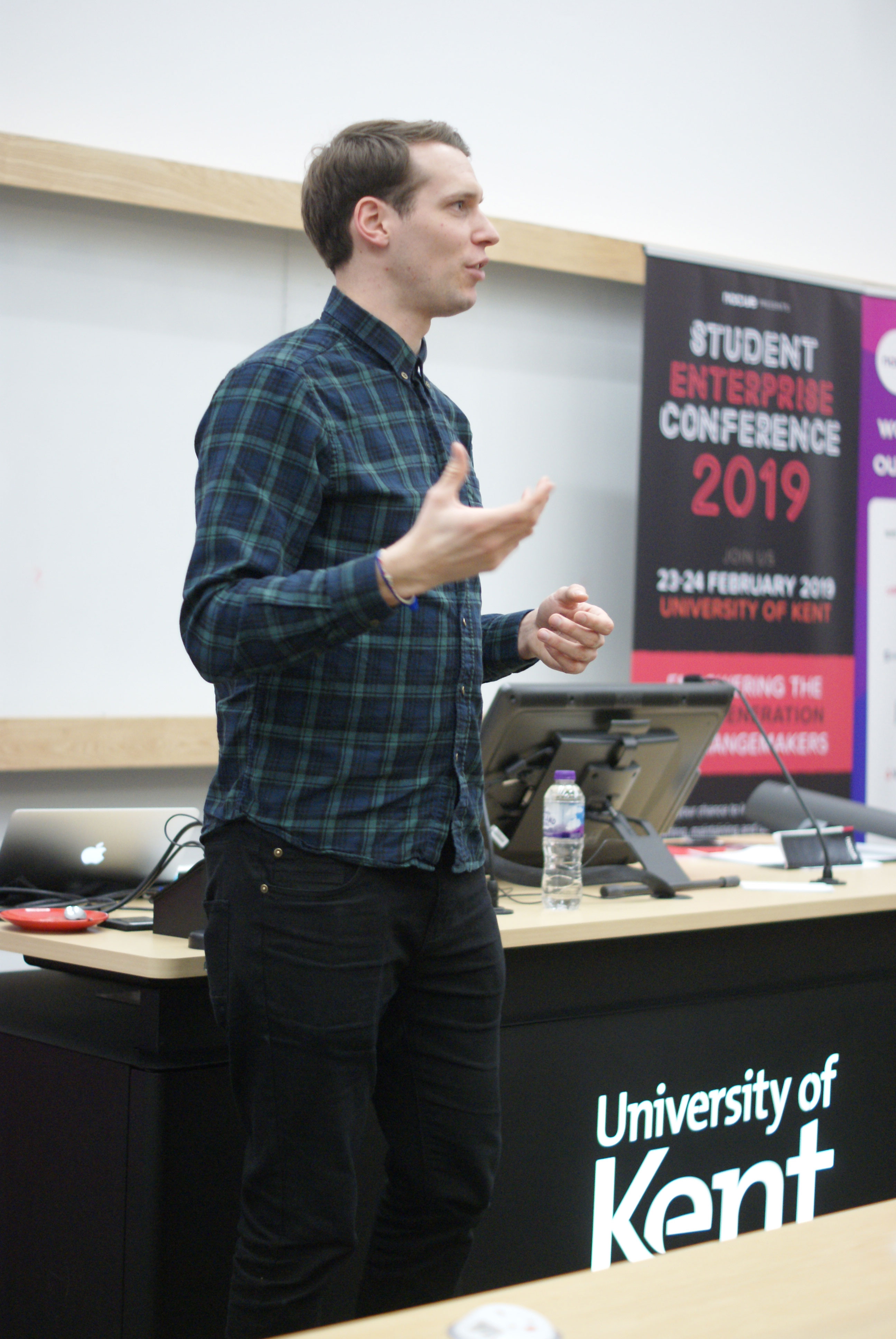 James Lancaster form Yoti, our sponsor for this years' conference, finished off the day by explaining how Yoti's e-signing platform worked and how it can be used for business of all sizes. Delegates received a live demonstration of platform in use, excusing offering delegates at #SEC2019 use of the platform for an outstanding 6 months for FREE! 
Day 2 kicked off a little later but delegates all arrived with a buzz eager to begin another exciting day. What better way to kick it off than learning first-hand the best way to network and create the links and essential relationships in order to grow their business by attending Antonio Mankulu's networking session on how to do just that? 
Delegates filled the room for Birmingham Enterprise Community is building a powerful network of student entrepreneurs, enabling powerful collaborations and building links with the wider business community. But what does that have to do with anyone else in the country? BEC showed those present how, through the creation of networks of student-leaders in other universities in Birmingham and identifying and engaging with the right people, it can create a revolution in your own area. Never underestimate the network power of students...it's how NACUE was created! 
The Alternatives to Funding panel provided insightful information from the diverse companies present Transmit Start-Ups, Twelve Ronnies, Styliff,  Seedrs and Mustard Seed, enabling a clearer understanding of where businesses could look for this, what the funders wanted out of it and what the best approach to achieve it would be. One of the takeaways was 'If you're good at marketing, opt for crowdfunding; if you're good at sales have discussions with VCs!'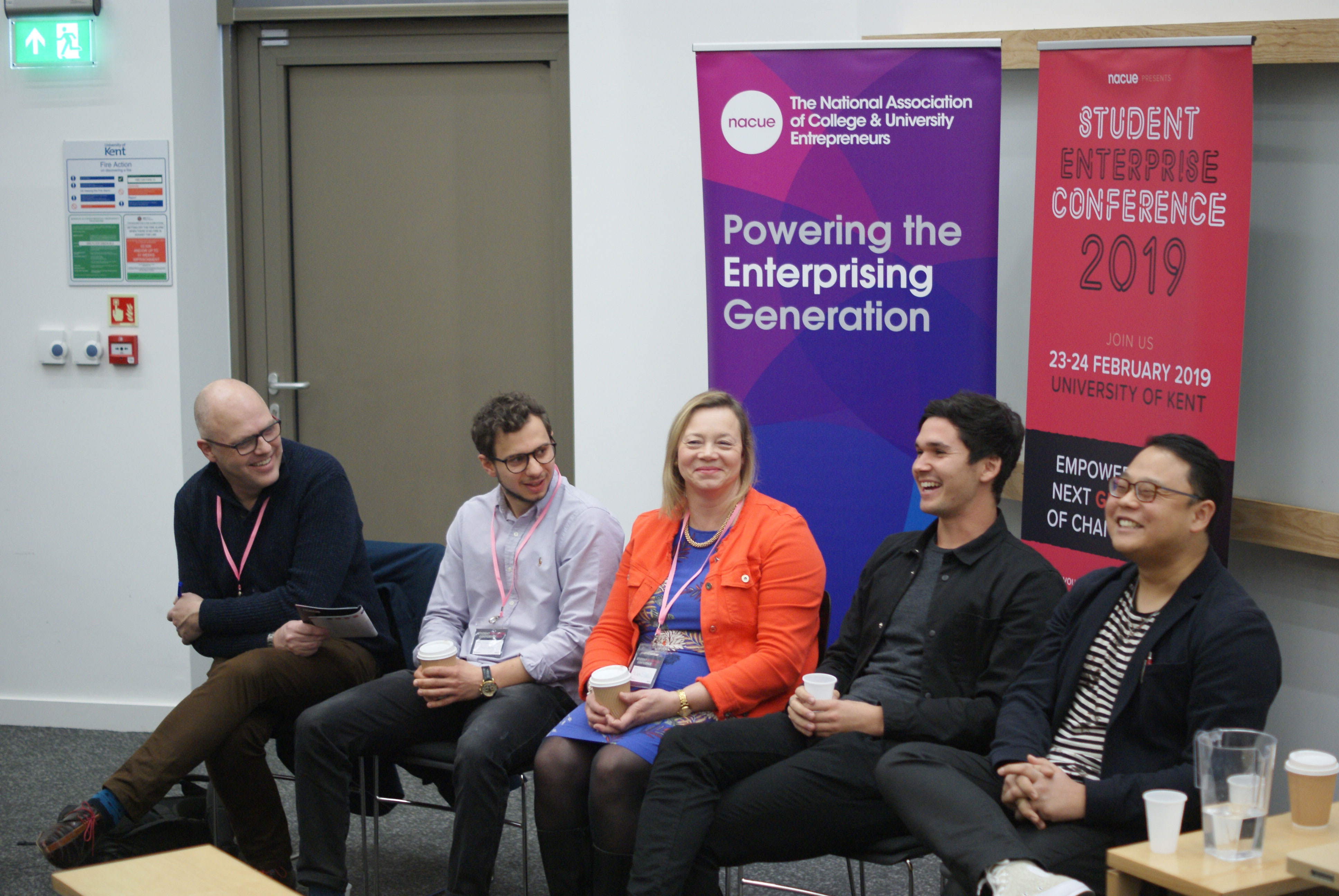 Having little money when starting up a business is a normal fact of life but how can you market it successfully if this is the case and get to be one of the top 30 Google Partner agencies in the UK? Amy McManus of AM marketing showed everyone how, by showing that you need to get people engaged in your story in order to buy into your brand and all were in awe of her achieving her end goal!
Our focused Tech Series panel explained what it has meant to them including the importance of finding the right co-founder, networking wider than their industry and its impact on the world around us and offered some practical advice to those starting out. Panellists included JMART SPACE, BackApper, Musemio and Supernotes. 
A Student Self-Empowerment workshop led by Jesey, really encouraged delegates to interact together to feel better about themselves, leaving them with both the tools to continue this and to help others, as well as a positive attitude as they headed off to the listen to the final sessions of the weekend.
Being at school, college or university is hard enough but throwing starting up a business into the mix too, takes a certain type of person with a focus on the end goal. Delegates listened to two such entrepreneurs, 18 year old Harry Beard and 13 year old Jenk Oz, who did just this, telling of their successes and pitfalls but the ultimate satisfaction of being able to achieve their dream.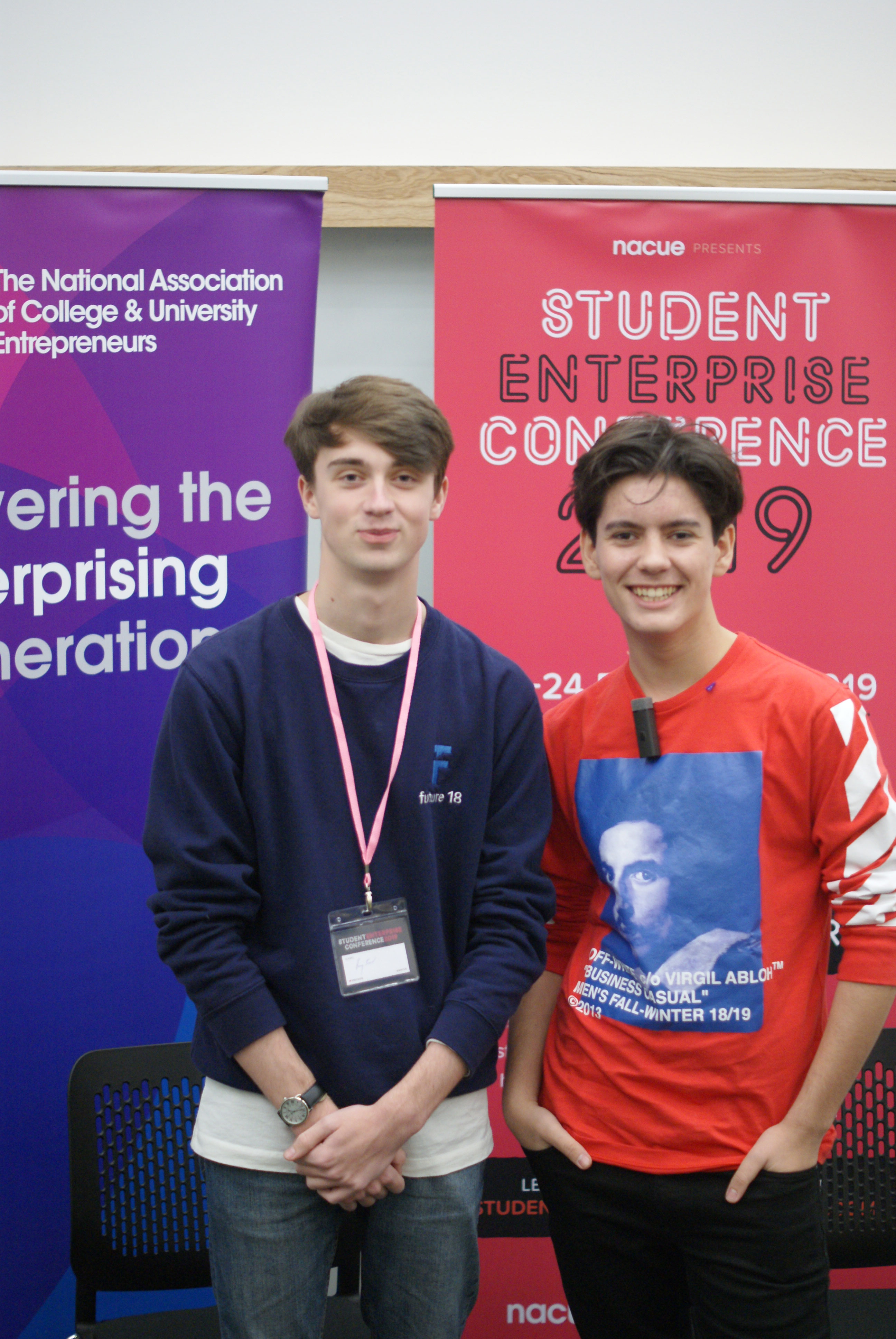 Our last panel of the afternoon was on disruptive thinking and how it can be incorporated into all business and management practices. With standing room only, representatives from Fat Lama, Outlier Ventures and the Wakeup Campaign showed how they did it in an interesting and innovative way.
To round up the conference we welcomed Jonas Templestein, Co-founder at Monzo for a fireside chat facilitated by Tim Barnes, to discover the company's forward thinking in Banking, with its new concepts that blew our minds!  We're sure that of those still left in the audience who haven't yet a Monzo card, shortly will...!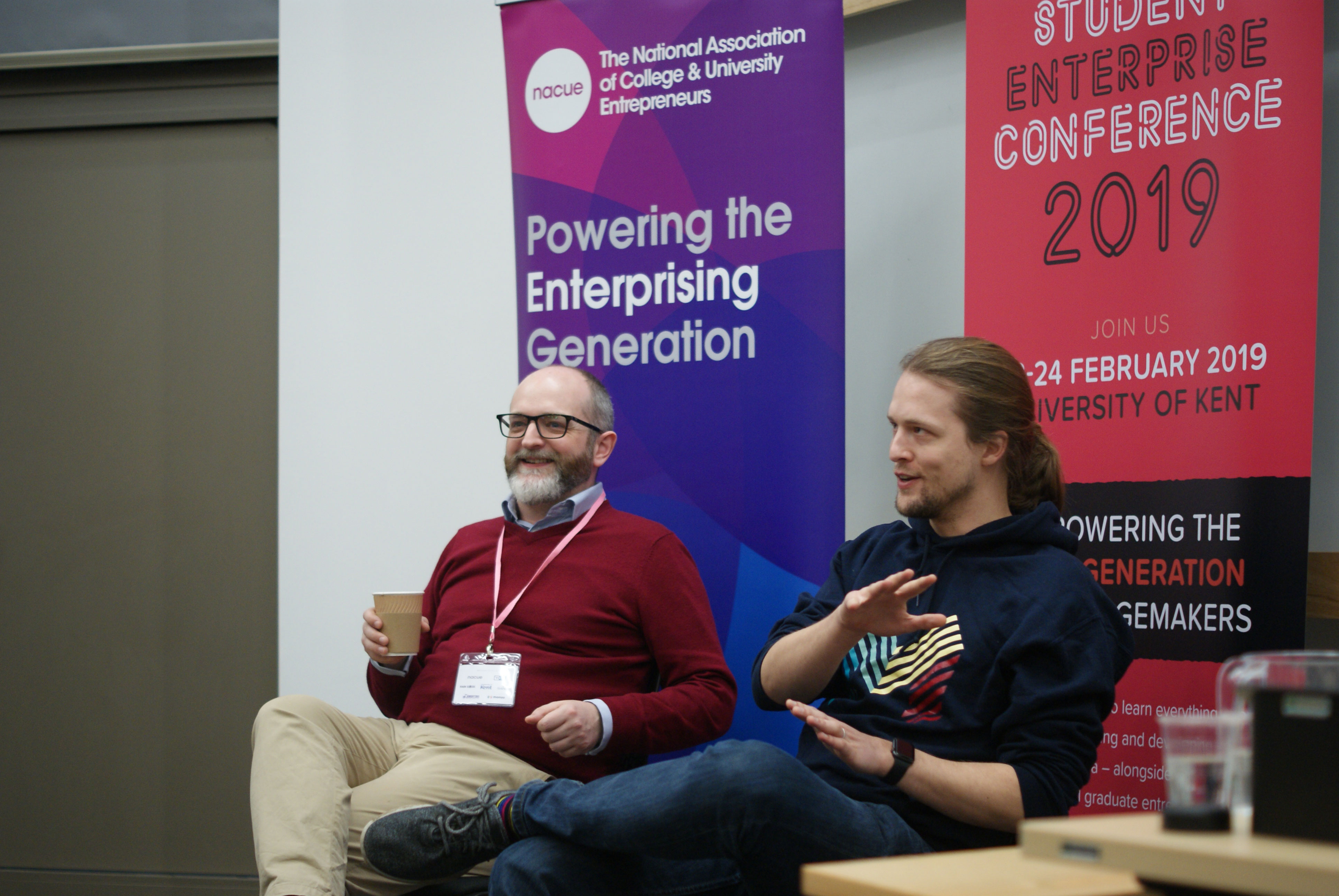 A big thank you to Jonas for closing this year's #SEC2019! 
We can't believe this year's conference is over but hope it won't be long before we meet again. On behalf of NACUE we would like to thank our hosts, University of Kent, our headline sponsor, Yoti, as well as all our other supporters. Most importantly, we would like to thank all of this year's delegates for joining us. We are looking forward to hearing all about your stories of #SEC2019, so don't forget to share your pictures, highlights of the weekend and blogs with us too on Twitter and Facebook! Get tagging yourself in photos here.
Remember to register your interest here to be amongst the first to learn about Varsity Pitch 2019, our 10th year of running the competition, as we want to hear all about your idea or business as you might be this year's winner! 
And finally, if you haven't already, why not join us on Twitter, sign up to our newsletter at the bottom of our home page and like us on Facebook for all student entrepreneurial related news and learn more about our upcoming events?